Services that support your work in Family Engagement
Whether or not you're part of the School Community Network, the trainings and support services offered here are designed to give schools a focused approach to building and strengthening family engagement in specific areas.
These services are delivered to your school team through on-site trainings in proven strategies and include access to resources from our School Community Network Resource Library to aid in implementation.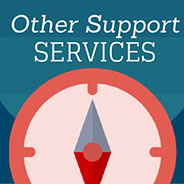 Arranged by our SCN Building Blocks (categories proven to positively impact family engagement outcomes)— Shared Leadership, Goals & Roles, Communication, Education, and Connection — the resources provided through these support services are soundly rooted in best practice and tightly aligned with the national family engagement framework.
Other services offered through the School Community Network
The links below provide a listing of training modules currently available. Click on the title of any module to view or print its complete details.
To schedule one of these trainings at your school or district, click on the Just Connect With Us tab on the left or email us at The School Community Network.
© 2011, Academic Development Institute. All Rights Reserved
121 N. Kickapoo Street • Lincoln, IL • 62656 • 1-800-759-1495